Wanglang Nature Reserve - Lodging, Actvities, Weather

<![if !supportEmptyParas]> <![endif]>

The Wanglang Forest Lodge <![if !vml]>

<![endif]><![if !mso]> <![endif]><![if !mso & !vml]> <![endif]><![if !vml]>

<![endif]>

The lodge is in a quiet mountain valley at the Headquarters of Wanglang Reserve. The lodge can accommodate 50 people (ten triple and ten double rooms). One triple and one double room share a bathroom with toilet, sink, and shower. The lodge has a restaurant (an ala carte menu and set meals are available), lounge, bar, library, and meeting room. The lodge is available for individuals, groups, and conferences.

<![if !supportEmptyParas]> <![endif]>

<![if !vml]>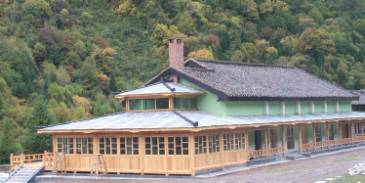 <![endif]>
<![if !supportEmptyParas]> <![endif]>
Activities at Wanglang
*These activities are expected to be available in the 2001 timeframe,
all other activities currently available.
<![if !supportEmptyParas]> <![endif]>
At the Information Center and Tea Room*
The Information Center at the Reserve entrance (Baozigou) has displays highlighting Wanglang's history, ecology, geology, flora, and fauna; panda ecology; the Baima culture, and the panda conservation program in Pingwu County that is sponsored by World Wide Fund for Nature (WWF). Tea, snacks, and gifts are available at the Center.
<![if !supportEmptyParas]> <![endif]>
In the Reserve
Drive the scenic 10 km road to the park headquarters.
Picnic in designated areas.*
Walk the roads and trails in the reserve.To increase your enjoyment and understanding of the area, Reserve naturalist guides are available to accompany you on your tour of the reserve.
View wildlife and watch birds. Note: it is rare to see pandas. Takin, musk deer, blue sheep as well as other animals can be seen occasionally. Birdwatching is excellent, especially during the spring and fall migration seasons. To increase your chances of seeing and hearing the wildlife and birds, be quiet and wear muted colors.
<![if !supportEmptyParas]> <![endif]>
<![if !vml]>

<![endif]>At the Reserve Headquarters (Muyangchang)
Relax at the Wanglang Forest Lodge.
Dine on Sichuan cuisine at the lodge restaurant.
Go on a guided bus tour of the Reserve.*
Arrange overnight guided tent camping (seasonal).*.
Listen to ranger talks at night.
Go on guided nature walks.
Read about the natural and culture history of the Reserve and the geology, flora, fauna in the lodge library.*
Walk on self-guided nature trails.*
Kids - Become a Junior Ranger.*<![if !vml]>

<![endif]> <![if !vml]>

<![endif]>
<![if !supportEmptyParas]> <![endif]>
Weather and Clothes
The mountain weather is changeable, and it can be much colder and rainier at Wanglang than at lower elevations. Bring extra clothes for warmth and rain protection and wear comfortable, waterproof walking shoes. Bring sunscreen for sunny days. June, July, and August receive the most rain, however, it can rain anytime. Snow is possible as early as September, but is most prevalent from November through March.
<![if !supportEmptyParas]> <![endif]>
Warnings
Drive slowly: All roads are narrow - some are one lane. Blind curves and hills can be dangerous.
Watch your step: Roads and trails can be uneven.
Go off trail only with a Reserve Guide.
Be alert for wild animals: Do not approach or feed animals. Keep at least 10 meters away from any animal you see. If an animal is acting strangely, report it to the Reserve staff. Wild boars live in the Reserve and can be dangerous. There are no snakes in the Reserve, however, two species of poisonous snakes live just outside the reserve.
<![if !supportEmptyParas]> <![endif]>
Published by Wanglang Nature Reserve, Sichuan Province, China.
Last updated January 22, 2001. Send comments to: roger_ratcliff@hotmail.com
<![if !supportEmptyParas]> <![endif]>
<![if !supportEmptyParas]> <![endif]>