Wanglang Nature Reserve, Sichuan Province, China
Visitor Information
<![if !vml]>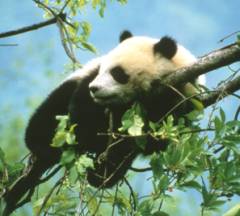 <![endif]>
The giant panda is known and cherished around the world. The panda, one of the most rare and beloved animals in the world, is threatened with extinction - only about 1,000 pandas live in the wild. Although historically pandas were found throughout much of China and in Burma and Laos, today all of the wild pandas in the world live in six isolated forest areas in central China.
<![if !supportEmptyParas]> <![endif]>
Wanglang Nature Reserve, established in 1963 by the Sichuan Forestry Bureau, is located in the Minshan Mountains in some of China's most important panda habitat. Wanglang, whose purpose is to protect the giant panda and its habitat, and the 10 other nearby reserves in remote areas of northern Sichuan are critical to the continued survival of the giant panda.
<![if !supportEmptyParas]> <![endif]>
There are estimated to be about 30 wild pandas living in Wanglang. At Wanglang you have a unique opportunity to experience the lush forests, beautiful mountains, and thick bamboo groves of the panda's home. Additionally, you can visit the colorful Baima people who have lived in the area just outside the reserve for hundreds of years.
<![if !supportEmptyParas]> <![endif]>
Because there are no captive pandas at the reserve and because wild pandas live in high mountain areas in thick foliage and avoid humans, you will probably not see a panda at Wanglang, However, your trip to the panda's home will be one you will talk about for years to come and your visit to
Wanglang will help support conservation of the world's treasured creatures, the giant panda.
<![if !supportEmptyParas]> <![endif]>
Published by Wanglang Nature Reserve, Sichuan Province, China.
Last updated January 22, 2001. Send comments to: roger_ratcliff@hotmail.com
<![if !supportEmptyParas]> <![endif]>
<![if !supportEmptyParas]> <![endif]>